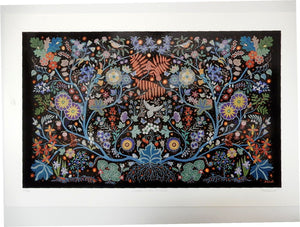 Christi Belcourt
Edition print on archival paper  
Size of image: 28" x 17"
Christi Belcourt is a Michif (Métis) visual artist with a deep respect for Mother Earth, the traditions and the knowledge of her people.  In addition to her paintings she is also known as a community based artist, environmentalist and advocate for the lands, waters and Indigenous peoples.

She is currently a lead organizer for the Onaman Collective which focuses on resurgence of language and land based practices. She is also the lead coordinator for Walking With Our Sisters, a community-driven project that honours murdered or missing Indigenous women.

Christi's work is found at the National Gallery of Canada, the Art Gallery of Ontario, Parliament Hill, the Canadian Museum of Civilization - First People's Hallthe Gabriel Dumont Institute, the Thunder Bay Art Gallery.  Christi lives in Espanola, Ontario.