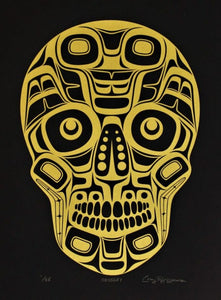 Edition Size:
55 signed and numbered, 6 artist's proofs, 6 remarques
Paper Size:
37 x 48 cm, 14.5 x 19 inches
Image Size:
27 x 38.5 cm, 10.5 x 15.5 inches
Corey Moraes' first full edition of serigraphs - a form line skull design available in silver or gold: "Odyssey" explores the notion of life journeys. Though each path is different for all, our experiences share similarities when viewed through a human lens - deep down we are all the same. Cultures and belief systems are merely window dressing - the outermost of many layers that cover our bones.

Homer's epic poem "The Odyssey" tells of the long, arduous path for Odysseus, and for us, yet we all long for, and desire a greater calling - a higher purpose. "As we navigate our journey", Moraes says, "our chosen destination, our life experiences (both good and bad), determine our identity".

"How do we interpret our reflection? What do we see?", asks Corey. "Is it reality, or merely what we want to see?" The layers covering that which is the same in all of us; our bones; our foundation.

This limited edition silk screen print titled "Odyssey" by Corey Moraes was hand produced by the screen printing process. It is the only limited edition printing of this design. The artist has inspected and signed each copy in the edition. The printer has destroyed all trial copies and obliterated the printing stencils.
Corey Moraes is a prominent Tsimshian artist. Born in Seattle in 1970, his works can be seen in publications, museums, galleries and collections throughout the world.
Corey was first exposed to Northwest Coast Art at a young age watching Pat Dixon (1938 – 2015, Haida) carving argilite and silver jewellery. He credits this experience with instilling in him the desire to create Northwest Coast Art.
Asked about those early days, Corey says "My early influences were a mix of Northwest Coast and popular culture. I originally dreamed of becoming an album cover designer. I've always had an affinity for music, the covers added to the experience. The iconography of design groups such as Hipgnosis and artists like Derek Riggs stood out for me."
As for early Northwest Coast influences, Corey mentions that Art Thompson, Robert Davidson, and Heiltsuk artist Captain Carpenter had the greatest impact on his early career.
Corey has established himself as a multi faceted artist creating gold and silver jewellery, masks, wood carvings and limited edition prints, yet he sees painting as one of his favourite mediums "because of how colour and technique can resonate with the viewer". He adds that he really enjoys the process of deciding how he is going to make an idea come to life; whether it will "work better as a sculpture, jewellery, or painting. Establishing the idea and seeing it grow is what excites me."
Corey considers himself a traditional artist who brings the art form into a contemporary context. He favours an abstract approach to traditional art and sees a correlation between Northwest Coast Art and Japanese mural designs. "I have created works that I believe are a logical cross pollination of a sort of Pacific Rim fusion."
While the world of Northwest Coast Art produces many great traditional artists, Corey Moraes looks beyond. He sees the task for future generations as being able to express what goes on around us and make it relatable for the viewer.