Edition Size: 150 signed and numbered, 15 artist's proofs, 15 remarques, 1 printer's proof
Paper Size: 52 x 58.5 cm, 20.5 x 23 inches
Image Size: 38 x 44.5 cm, 15 x 17.5 inches
Joe Wilson feels that Orca should serve to celebrate the beauty of this magnificent animal, raise awareness, and help ensure its survival. In particular, he points to the Southern Resident Killer Whale Pod (also referred to as "Orcas of the Salish Sea"). This pod is one of four resident communities within the Pacific Northwest. It is the smallest of the four, and it is also listed under the Endangered Species Act. As of the end of 2018, this pod numbered 75 members, which is down significantly from 250 a few decades ago. Increased marine traffic, environmental damage, and the depletion of their major food source, Chinook Salmon, are to blame for the reduction in their numbers.

Orcas are revered for their hunting skills, their complex societies and strong family bonds. In 2018 the Southern Resident Killer Whale Pod was in the news when a mother carried its deceased calf on her back for two weeks, an incident which attracted international attention.

In First Nations cultures of the Pacific, the Orca is represented often in their visual works, as well as oral traditions. Known to some as the Guardians of the Sea, Orcas are associated with compassion and strong family ties.

This limited edition silk screen print titled "Orca" by Joe Wilson was hand produced by the screen printing process. It is the only limited edition printing of this design. The artist has inspected and signed each copy in the edition. All trial copies of this edition have been destroyed and the printing stencils obliterated.

Published by Cedar Hill Long House Native Art Prints.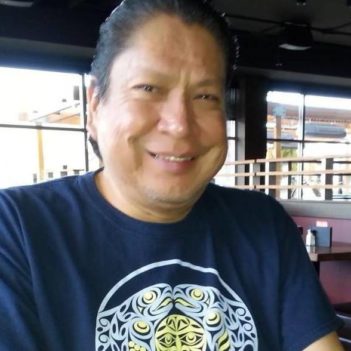 Joe Wilson is a Coast Salish artist who was born in 1967, and raised at Koksilah near the small city of Duncan on Vancouver Island, British Columbia. His keen interest in native art began at the tender age of 12 whilst watching his stepfather, Johnny Sampson, design and carve beautiful native artworks. However, fierce competition with his younger brother, Rick, motivated Joe to take his artistry seriously: "That's when I frustratingly started really applying myself. Even back then I had it in my heart to be one of the best out there in our field [Coast Salish Territory] and I did it."
At the young age of 17, Joe began producing and marketing his various Aboriginal paintings and carvings within the local region. Since then, he has apprenticed under master carvers such as the late Simon Charlie and Coast Salish artist Charles Elliott, and studied under Nuu-Chah-nulth master carver Tim Paul at the Royal British Columbia Museum. Joe has studied northwest coast native art extensively and has emerged as one of the most prolific Coast Salish artists today.
A soft-spoken man, Joe's northwest coast Native art speaks of confidence and strength and has a unique and original style. His colours are bold and unconventional, yet extremely appealing and rich.
Joe has always felt that the Coast Salish native art form continues in its tradition to be inspiring within its form and unique flair. His Aboriginal paintings and carvings are not only traditionally authentic, but also an artistic communication link between cultures.
Joe Wilson will continue to push the boundaries of Coast Salish art while creating works that distinguish and preserve his culture for current and future generations. His talent will continue to bring him the recognition that is reserved for outstanding artists.