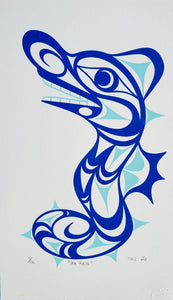 Edition Size:
150 signed and numbered, 15 artist's proofs, 15 remarques, 2 printer's proofs
Paper Size:
25.5 cm x 40.5 cm, 10 x 16 inches
This seahorse design is Phil Joe's first limited edition print. Even though seahorses are not commonly represented in Coast Salish art, some artists have depicted them in the form of carvings or paintings.

Phil's motivation for this print was his four year old daughter, whose favourite creature is the seahorse. She wanted one done in the Coast Salish style and he was happy to oblige.

Seahorses are small fish named for their horse like appearance, with a long and snouted head, curved neck, and distinctive trunk and tail. They are masters of camouflage as they can change colours to blend in with their environment. Each can display many variations of colour and pattern.
Phil (Phillip) Joe Jr. was born and raised in Quwutsun (Duncan), BC on Vancouver Island. He is a full time artist who has also taught art to youths and adults in schools near Duncan.
Phil started his career by studying artists such as Manuel Salazar, Joe Wilson, Ed Joe, Stuart Pagaduan, and lessLIE, to name just a few. He credits his dad, Phil Joe Sr. and Delmar Johnnie with being his biggest inspiration.
Phil respects the traditional rules in the art creation process, but accepts that there are contemporary aspects to this work. He says, "I see this becoming more and more common in all Salish artworks, whether it is wood, paper or weaving."
Phil's art has been featured in a clothing line, but his focus now is on original paintings and limited edition prints.