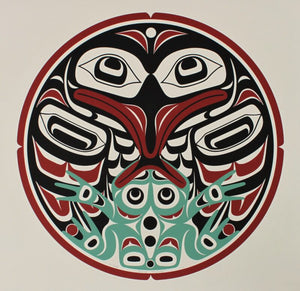 Edition Size:
170 signed and numbered, 17 artist's proofs, 2 printer's proofs
Paper Size:
56 x 56 cm, 22 x 22 inches
Image Size:
48 x 48 cm, 19 x 19 inches
Sharing Knowledge is based on a drum painting by Alvin Child. It shows Raven at the top, and Frog at the bottom.

In Northwest coast art, Frog is usually depicted with a wide mouth and protruding tongue. In this design, Frog's tongue touches Raven's. What looks like an intimate interaction at first glance, symbolizes the sharing of knowledge and power, and the ability to communicate with different species. It suggests an interconnectedness between all living things.

Raven is one of the most important creatures in Northwest Coast mythology and art. He is a powerful, cultural focus and symbol in many communities and to First Nation peoples along the Northwest coast of North America; both as a crest figure, and as a guardian spirit.

Raven created the world. Raven put the stars, moon, and sun into the sky. He introduced the first men and women to each other and gave them fire and water. Raven put fish into the sea and food onto the land. He is a central character in Northwest Coast creationist stories.

Frog is a supernatural being which inhabits the human, as well as the spirit world. He is highly adaptable to his environment and able to communicate between the two realms. Frog is also a healer, and cleanser of bad spirits. In addition, he represents wealth, abundance, ancient wisdom, rebirth, and good luck.

This limited edition silk screen print titled "Sharing Knowledge" by Alvin Child was hand produced by the screen printing process. It is the only limited edition printing of this design. The artist has inspected and signed each copy in the edition. The printer has destroyed all trial copies and obliterated the printing stencils.
Alvin Child was born in Alert Bay in 1962 as the second child of John Alvin Dudoward and Irene Willie. When Alvin was one year old, his father passed away, and the family relocated to Nanaimo, BC. His mother remarried when Alvin was four.
Alvin recalls a happy childhood in which his mother and adoptive father, Ron Child, placed a lot of emphasis on schooling. Alvin graduated from BCIT with a degree in Engineering, and he never developed a serious interest in art until a by-chance encounter in 1984.
On this day, Alvin was walking in Victoria's Chinatown, when he suddenly heard an unusual sound – a loud chainsaw in the middle of the city. Curious, he followed the noise and came upon a building on Herald Street. He knocked on the door, but there was no answer. However, the door was unlocked, and with his curiosity piqued, he decided to let himself in.
Alvin describes the scene as follows, "There was a guy roughing out a design on a totem pole with a chainsaw. He didn't know I was there and continued working." Alvin watched until the man suddenly looked up and said, "Hey, Alvin."
The man introduced himself as John Livingston, a master wood carver who was also an expert restorer and appraiser of native artifacts. He recognized Alvin because he knew his mother, Irene.
Alvin went on to watch John work for the next four hours. He was fascinated with the process of carving and watching shapes come alive. John invited Alvin to come back the next day and said that if he was interested in carving, he should get some blades made. He drew the outlines and specifications of the blades on a piece of cardboard and handed it to Alvin. This was the beginning of a mentorship and friendship that lasted nearly 35 years until John's passing.
Alvin enjoys creating and designing. He has released seven limited edition screen prints, carved several hundred plaques and painted many drums.
Alvin has indicated that he intends to focus more on creating two-dimensional art. We are looking forward to seeing his new designs.