Edition Size: 125 signed and numbered, 13 artist's proofs, 2 printer's proofs
Paper Size: 76 x 28 cm, 30 x 11 inches
Image Size: 71 x 23 cm, 28 x 9 inches
"In no other time of mankind, have we had the ability to affect life itself by our inaction, as we do now. There is a harmony that exists in nature that keeps all life forms healthy and vibrant. That balance is crucial to our well being. That balance offers us all hope and inspiration.
'I am here', and I am more aware of my role and responsibilities to do my part in any way that I can to make it better for the lives I affect with my choices."
- Mark Preston (Tenna-Tsa-Teh)

This limited edition silk screen print titled "A Fragile Balance" by Mark Preston was hand produced by the screen printing process. It is the only limited edition printing of this design. The artist has inspected and signed each copy in the edition. The printer has destroyed all trial copies and obliterated the printing stencils.

Published by Cedar Hill Long House Native Art Prints.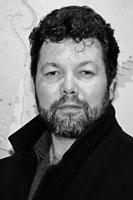 Mark Preston (Tenna-Tsa-Teh) is an Aboriginal artist from Dawson City, Yukon. He is of Tlingit and Irish ancestry and presently resides in the Yukon.
Mark Preston learned about his Tlingit ancestry through family and school study. Initially, he began studying art through European masters such as Leonardo da Vinci, but later discovered Northwest Coast Native artists such as Bill Reid, Robert Davidson and Roy Vickers.
He cites Mark Rothko and Jack Bush as influences in his more recent aboriginal paintings and artworks which transcend the traditional Tlingit Native art form and move him closer into the abstract and contemporary realm.
Mark has studied various mediums in paper, cloth, wood, metals, stone and glass. He studied silver carving with well known master jeweler and carver Phil Janze (Gitskan Nation) at Hazelton, BC.
"When I think about what art is, it is more than illustration or objects to be doted over. Art is the magic, the glue that binds us all together. It is the language that transcends its forms."