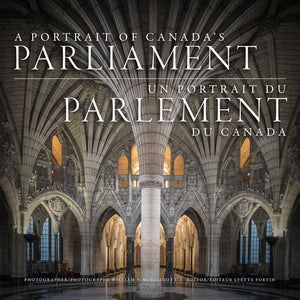 Signed by the Photographer/Author William P. McElligott
PHOTOGRAPHS BY

 

WILLIAM MCELLIGOTT  

EDITED BY

 

LYETTE FORTIN 

FOREWORD BY

 

ADRIENNE CLARKSON
A stunning visual exploration of Canada's most recognized building accompanied by a comprehensive study of its history, in a coffee-table worthy volume.
The Centre Block, the iconic parliament building that has come to be Canada's foremost representation, was closed in 2018 and will remain closed for at least a decade for a complete renovation and restoration. During that time, hundreds of thousands of Canadians and visitors to Canada will miss the opportunity to tour the building and view its architecture and symbolic artwork.
With original photographs from noted architectural photographer William P. McElligott, historical images, and thematic articles written by established subject specialists, A Portrait of Canada's Parliament/Un Portrait du Parlement du Canada provides a contemporary look at one of the nation's greatest symbols and documents and analyzes the context, landscape, heritage, and structure of this unique national icon, from its origins to its present and to its future ahead. This gorgeous volume, presented in English and French, will be treasured by all those with an interest in Canada's architectural and parliamentary history.
Size: 11 1/2" x 11 1/4"