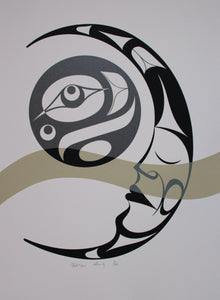 Edition Size: 170 signed and numbered, 17 artist's proofs, 17 remarques, 2 printer's proofs
Colours: Midnight blue, taupe, and graphite.
Paper: Maidstone 230 grams
Paper Size: 47.6 x 64.1 cm, 18 3/4 x 25 1/4 inches
Image Size: 46.4 x 48.3 cm, 18 1/4 x 19 inches
Publication Date: 12/06/2011
Published By: Cedar Hill Long House Art Publishing
"In the print a stylized full moon is shown with elements of design that I have chosen to better reflect the fullness of the moon. I have brought the eye out of its usual space into the form line of the moon. I do this in most of my current paintings. This is a new process (of bringing the eye out) I started in 2002 after I returned from the U.A.E.
The crescent moon has a soft and gentle feminine face. Through the two moons a roll of a soft cloud is visible.
I chose the title 'Affinity' because the publisher of this print had read about my affinity to the moon. I thought that this title was perfect.
When I gaze upon this print it is my hope that I have conveyed both, the strength and the softness of the moon. At least, that was my intent."
- Francis Dick
This 
limited edition silk screen print
 titled 
"Affinity"
 by 
Francis Dick
 was hand produced by the screen printing process. It is the only limited edition printing of this design. The artist has inspected and signed each copy in the edition. All trial copies of this edition have been destroyed and the printing stencils obliterated.
Published by 
Cedar Hill Long House Native Art Prints
.
Born in 1959 into the Musqamakw Dzawadaenutw Band (the four tribes of Kingcome Inlet), Francis Dick is a contemporary Native artist and a member of the Kwakwaka'wakw Nation. She is a descendant of the supernatural Wolf, Kawadelekala, who became the first of the Kingcome people.
The image of this mythical being is prominent in much of Francis Dick's native art, acknowledging her contemporary ties to her cultural heritage. Francis holds this very near to the centre of her spirit, as she relies on this hereditary knowledge for her strength. "Before anything else, my work is about honouring my life process, my journey, through my fires, from places of pain and darkness to places that I might stand in my truth; my work is not a career, it's a way of life."
Francis began her career as a social worker after receiving her degree from the University of Victoria, but quickly realized that her true calling in life was to honour her natural artistic talents.
Francis Dick's first aboriginal painting, Kawadelekala, was created, then published, as a way to honour her grandmother's life and spirit after her death in December of 1985. Four months later, her youngest brother, Jesse, took his own life. She created her second aboriginal painting as a way to acknowledge her love and honour for her brother. The pain of losing Jesse took her to a doorway where her journey of self discovery began through her northwest coast art.
Francis Dick is an integral member of the native art community, and is frequently requested to speak for various community organizations, women's groups and university classes. She has been invited to speak as a guest lecturer as far away as Europe and has had native art exhibitions all around the globe, including China and the Middle East. Francis' native art has been exhibited in various art galleries and museums, including a permanent exhibit at the Ethnological Museum in Berlin. Her aboriginal paintings, as well as articles and interviews, have been published in books, calendars and magazines all over North America, Asia and Europe.
Although Francis Dick's primary forms of artistic expression have been her aboriginal paintings, prints and singing, she also works with gold and silver, and is an accomplished writer and performer of native ceremonies.