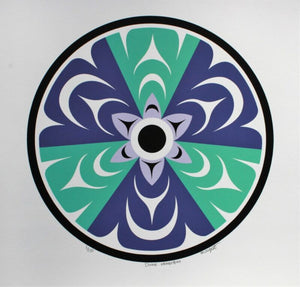 Edition Size:
130 signed and numbered, 13 artist's proofs, 13 remarques, 2 printer's proofs
Paper Size:
46 x 46 cm, 18 x 18 inches
Image Size:
36 x 36 cm, 14 x 14 inches
Divine Momentum is a limited edition screenprint by Coast Salish artist Margaret August. The design shows a Coast Salish spindle whorl that is striking in its vibrancy. Through this very contemporary and youthful interpretation, the artist is suggesting that Coast Salish cultures are prevailing in modern times.

The artist says, "Divine Momentum is inspired by a stone spindle whorl artifact. Spindle whorls were traditionally used for spinning fibres for the sole purpose of making textiles. This contemporary design symbolizes the revival of ancient Coast Salish practices and the continuation of our cultures."

The spindle whorl is one of the most frequent motifs in Coast Salish art. It was also a tool of high cultural importance. It allowed Salish women to weave beautiful textiles of spiritual and social significance.

The spindle whorl was used to spin fleece into a thick yarn. It consisted of a small disk (whorl) with a shaft, inserted through a hole in the middle. The shaft was up to four feet long, or 120 cm, while the whorl was up to eight inches across or 20 cm. The whorl was intricately carved from wood or stone with geometric, animal, or human designs. As the disk spun, the design would mesmerize the spinner, thereby bestowing special powers on the woven material.


This limited edition silk screen print titled "Divine Momentum" by Margaret August was hand produced by the screen printing process. It is the only limited edition printing of this design. The artist has inspected and signed each copy in the edition. The printer has destroyed all trial copies and obliterated the printing stencils.
Margaret August is a contemporary, two-spirited, Coast Salish artist from Shíshálh Nation. Margaret was born in 1983 on traditional, unceded Lekwungen and Wasanec territories, where she currently resides.
Margaret feels that her ancestral power animal symbol, Skw'etu'?, influences her art. Skw'étu? is a word for Raven in Shashishalhem language. Skw'etu'? is known to be the light bringer in darkness. Origin stories say it was Raven that stole the sun from an old man who wanted to keep the world in darkness.
Ravens are the gatekeepers of the Void, where there is no form or structure, only fluidity and constant change. Skw'etu'? utilizes his abilities of mystical shape shifting to teach Earth's inhabitants their individual life lessons.
Margaret began developing her artistic talents through singing and playing music at an early age. At the same time, she was learning how to create traditional Native art through Butch Dick.
Her artistic style is influenced by Susan Point, lessLIE, Chris Paul, Luke/John Marston, and Maynard Johnny Jr.
Margaret has been showing her work in community art shows since 2010. In 2013, she began to make prints and developing her business skills, which helped her in becoming an independent artist.
These varied art experiences, as well as ancestral gifts have shaped Margaret to better understand her life's direction. Margaret's overall philosophy as a contemporary Native artist is to present the community with art that creates change and a sense of hope.