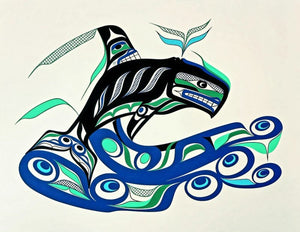 Edition Size:
160 signed and numbered, 16 artist's proofs, 16 remarques, 2 printer's proofs
Paper Size:
71 x 56 cm, 28 x 22 inches
Image Size:
61 x 44 cm, 24 x 17.5 inches
K'aka'win is the Nuu-chah-nulth word for killer whale. With this limited edition Native art print, titled K'aka'win, Patrick Amos pays tribute to the magnificent orca (killer whale) and the transformation stories about wolves and killer whales.

Patrick Amos explains, "On the beautiful, stormy coast of Vancouver Island the Nuu-chah-nulth peoples lived as one with Mother Earth. The animals were their teachers, the winged ones their messengers, and transformation stories were told from grandparents to grandchildren during meals so one would 'swallow' the teachings.

Our ancestors watched the wolves sacredly leave the forests, heads bobbing from side to side and walk down to the waters edge. As they immersed themselves in the water, they transformed from wolves to killer whales and swam off into the sea. The sheer significance of witnessing this transformation kept the people patiently waiting, hidden on the beaches. The killer whales would swim back to shore and transform back into wolves.

The killer whales and wolves teach us the importance of family as they both live in groups (pods and packs) and look after their families. Wolves and killer whales adorn regalia today validating transformation stories."


This limited edition silk screen print titled "K'aka'win" by Patrick Amos was hand produced by the screen printing process. It is the only limited edition printing of this design. The artist has inspected and signed each copy in the edition. The printer has destroyed all trial copies and obliterated the printing stencils.
Patrick Amos is a Nuu-chah-nulth artist who was born in 1957 on Nootka Island, just west of Vancouver Island. He is a member of the Mowachaht band which is one of fourteen bands that make up the Nuu-chah-nulth nation.
Patrick began his artistic career as a printmaker and designer. He assisted other artists with preparing designs for serigraph printing as well as producing his own designs.
In 1979 he began an apprenticeship, carving wood under the direction of Tony Hunt senior at the Arts of the Raven Studio. This studio was founded to encourage and train younger artists.
Five years later, Patrick began carving with Tim Paul at Thunderbird park near the Royal British Columbia Museum.
Patrick has been included in numerous exhibitions and has had a long term relationship with the Royal British Columbia Museum and galleries throughout the Northwest Coast.