Edition Size: 100 signed and numbered, 10 artist's proofs, 10 remarques, and 2 printer's proofs
Paper Size: 28 x 76 cm, 11 x 30 inches
Image Size: 19 x 67 cm, 7.5 x 26.5 inches
"On the Northwest coast, eagles, thunderbirds, and ravens were the birds of choice in traditional indigenous art – but as the art has evolved into its contemporary form, the hummingbird has joined the major motifs in the Coast's artistic lexicon.
I am not surprised that the hummingbird has gained significance; their iridescent feathers and sleek body shape give them a majesty and extravagance that is only matched by exotic birds such as the peacock or the parrot. And it seems that the more one learns about the hummingbird, the more fascinating they become: they are the only type of bird that can hover in the air, they can flap their wings up to 70 times per second, their heart can beat up to 250 times per minute, and for such a tiny bird, some species travel incredible distances in their yearly migration. The Rufous Hummingbird (one of the species that are found on Vancouver Island), despite being only 7-9 centimeters long, actually has an annual migration spanning up to 3200 kilometers – flying from Mexico all the way to Alaska.
So despite being absent from traditional Salish artifacts, I think hummingbirds have earned their spot in contemporary art by inspiring awe in so many people. This print pays tribute to the many fascinating and beautiful breeds of hummingbirds found across the Americas."
- Dylan Thomas

This limited edition silk screen print titled "Migration" by Dylan Thomas was hand produced by the screen printing process. It is the only limited edition printing of this design. The artist has inspected and signed each copy in the edition. All trial copies of this edition have been destroyed and the printing stencils obliterated.

Published by Cedar Hill Long House Native Art Prints.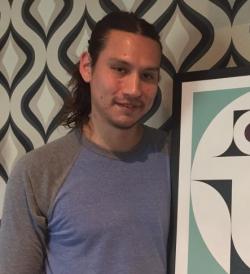 Born in Victoria, in 1986, Dylan Thomas (Qwul'thilum) is a Coast Salish artist and member of the Lyackson First Nation of Valdes Island, through his grandfather, Clifford Thomas. He also has Songhees heritage through his great grandmother, Mary Moody (of the Albany family), Squamish heritage though his great grandfather, George Moody, and Snuneymuxw heritage through his grandmother, Doris Josephson (of the Prest family).
Although Dylan grew up in the urban setting of Victoria, he was introduced to Coast Salish art at a young age because his family continues to participate in their culture and tradition. Dylan's early experiences with Salish art ignited a lifelong passion for the art form – and, eventually, led him to seek guidance from established artists. Dylan received training in jewelry techniques from the late Seletze (Delmar Johnnie) and studied under Rande Cook in all mediums of Northwest Coast art. Dylan's artwork has been published in The Journal of Mathematics and the Arts (Taylor and Francis), and in Contemporary Art on the Northwest Coast by Karen & Ralph Norris.
In 2013, Dylan was featured – alongside Rande Cook, lessLIE, and Francis Dick – in the Art Gallery of Greater Victoria's Urban Thunderbirds/Ravens in a Material World art show, and in 2016, Dylan held his first solo exhibit, titled Sacred Geometry, at Alcheringa Gallery in Victoria. Along with Rande and Delmar, Dylan's art has been influenced by the late Art Thompson, Susan Point and Robert Davidson. Dylan has also extensively studied other forms of traditional geometric art, and his work has been deeply influenced by Vajrayana Buddhist mandalas, Celtic knots, Islamic tessellations, and many other ancient geometric art traditions.