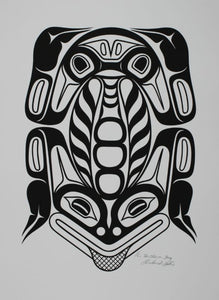 Edition Size:
120 signed and numbered, 12 artist's proofs, 12 remarques, 2 printer's proofs
Paper Size:
53 x 38 cm, 21 x 15 inches
Image Size:
39 x 28 cm, 15.5 x 11 inches
Richard Hunt drew this study of a northern frog over 25 years ago. The design is a traditional Tlingit design and Richard is a descendant of the Tongas Tlingit from Alaska through his great-great grandmother, Mary Ebbitts.

The frog is one of the most important symbols in Northwest coast Native art and culture. According to the Indigenous peoples of the NW coast, Frog inhabits the human, as well as the spirit world. It is revered for its adaptability and its ability to communicate between the two realms.

Frog is recognised as a healer in many Native customs all over North and South America. Many old European traditions also recognize Frog's ability to heal. Its songs are believed to be magical and contain divine power. They are cleansers of bad spirits.

Frog also represents wealth, abundance, ancient wisdom, rebirth, and good luck. In Northwest coast art, if Frog's tongue touches another creature, this represents the sharing of knowledge and power. On its own, Frog is usually depicted with a wide mouth and protruding tongue (see also Wak'es, Tree Frog and Sharing Knowledge). On totem poles, Frog occupies the bottom with its legs stretched out to symbolize stability.