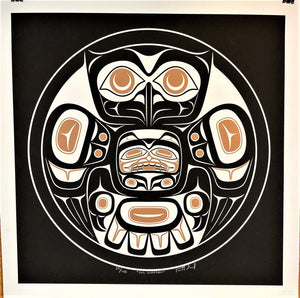 Edition Size: 150 signed and numbered
15 artist's proofs, 2 printer's proofs
 Paper Size: 51 x 51 cm, 20 x 20 inches
 Publication Year: 2022
 Trevor Husband describes his limited-edition print, Owl Guardian, as follows.

"The owl is a polarizing figure on the Northwest Coast and across Turtle Island. (....) My teachings are that you need to spend time watching an animal if you want to understand its medicine (teachings).

The owl can see in the dark, and hunts at night. Symbolically this relates to the spirit world, and gives the owl the ability to navigate the spirit world, going back and forth and bringing messages. (....) If we pray to Owl and ask for help, Owl can help us to see things that we are having a hard time seeing and understanding.

This design shows a bear cub in the belly of the owl, representing our inner child. The owl is watching over the bear cub, hiding in the shadows of the trees as they do, making sure it is safe from a distance. When the bear cub goes into dangerous situations, the owl will make sure, that the bear cub is safe. This piece is intended to bring this medicine of protection and being watched over to the viewer."
- Trevor Husband

The copper colour in the design emphasizes the significant role copper has played in Indigenous cultures for thousands of years. Native copper - copper that exists naturally in a pure form, and which does not require smelting or refinement - has been used to create objects of adornment and to manufacture tools for more than 6,000 years.
This limited edition silk screen print titled "Owl Guardian" by Trevor Husband was hand produced by the screen-printing process. It is the only limited-edition printing of this design. The artist has inspected and signed each copy in the edition. The printer has destroyed all trial copies and obliterated the printing stencils.
Trevor Husband was born and raised on Haida Gwaii. His mother's family is Cree from Sweetgrass, Saskatchewan, French and Irish. His father's family is Gitxsan, English and Scottish. Trevor grew up in a tight knit community where he spent the majority of his time outside; fishing, hunting, and camping.
When Trevor was 18 he moved to Vancouver to focus on creative writing, and eventually turned his creative focus towards music. He played guitar, bass, and sang and rapped in many different bands, including hip hop, reggae, funk and rock groups. He was a songwriter in many of those projects. Acting was also something that he dabbled in.
After spending 15 years in Vancouver and starting a family, he settled in the Cowichan Valley and focused on visual art. He apprenticed under Coast Salish artist Herb Rice, learning the craft of wood carving, working on plaques and totems. After a couple of years Trevor started to develop his own style, which draws from his own experience of growing up around Haida art; living in Duncan, the "City of Totems", which provided many different examples of different carving styles; and studying different styles up and down the coast.
Trevor is working to develop a unique style that draws from tradition, yet pushes the boundaries of the art form to new places. This is a tricky thing to do; to keep the feel and to respect the lineages that brought this style to us over time, while challenging the way that we think and look at the art form. As someone of mixed heritage, he tries to keep the spirit of Northwest art while using modern mediums and innovation to bring it to new places.
A commitment to ceremony helps Trevor to maintain this connection to spirit, as well as staying connected to the land. He also works part-time as a youth worker at the Duncan Native Friendship Centre to stay connected with the Cowichan community and give back. He works teaching carving, working on hip hop with youth, and advocating/mentoring with high-risk youth.