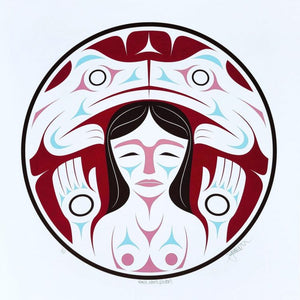 Edition Size:
150 signed and numbered, 15 artist's proofs, 2 printer's proofs
Paper Size:
56 x 56 cm, 22 x 22 inches
"In Women, Whorls, Wisdom, I am exploring the idea of the sacred mother – the feminine wisdom and leadership that helped create and maintain the cultural systems of my ancestors. In doing so, I am also honoring the many women in my life that have nurtured and guided me throughout my life.

The noble women of Coast Salish culture traditionally played an important role in the logistic, diplomatic, and ritual operations of a Salish tribe. Anthropologist, Wayne Suttles, noted that most important cultural objects, such as ceremonial masks and rattles, were always created in collaboration between a male carver and a female wool or bark weaver. And this elevation of Women in Salish culture can still be seen today with artists such as Susan Point and Kelly Cannell being some of the most respected contemporary Coast Salish artists on the coast today.

Women such as my mother and grandmothers have been some of the most important people in my life. And as a father of two girls, I am moved to see so many respected women in Salish communities to guide them as they mature in their life.

So this print is intended to honour all the female cultural knowledge bearers of past, present, and future."
-Dylan Thomas

The circular design of the image is reminiscent of a spindle whorl. Spindle whorls are one of the most frequent motifs in Coast Salish art. They were also a tool of high cultural importance. They allowed Salish women to weave beautiful textiles of spiritual and social significance.

Qeyux, the supernatural otter is at the top of the design.